High-pressure cleaning is a very effective way to remove hard-to-remove dirt and substances outdoors.
It is pretty useful when you need to clean large outdoor areas. It involves using a pressure washer (a high-pressure mechanical sprayer) to remove paint, mould, mud, dust, grime, chewing gum, and other dirt from hard surfaces and objects.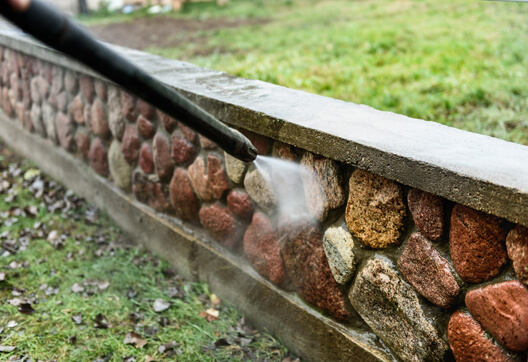 We use pressure washer surface cleaners that shoot high-pressure jets of water onto the dirty area to soften and remove the dirt. Some cleaners use a direct spray action, and others comprise a few high-pressure jets that swivel and rotate when the water flows through the narrowing pipe at high pressure. The high flow rate washes dirt away.
The type of dirt often determines whether we use water only or add detergents and soaps to the water. Detergents and soaps break down dirt, so we don't need to use abrasive techniques.
We can perform high-pressure cleaning on a variety of surfaces, including:
High-Pressure Cleaning Process
For the best results, we first soften the dirt with water, apply detergent under high pressure, and then let it soak for a few minutes to penetrate the dirt.
We adjust the pressure for different surfaces to ensure we don't cause damage through the high pressure used.
Contact us to discuss any concerns that you might have about our high-pressure cleaning process. We would love to meet you and share more details of our extensive cleaning services.