Most professional cleaners use a method called 'hot water extraction' to deep-clean carpets.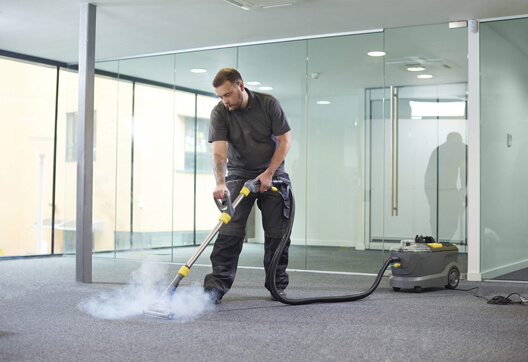 This process is better known as 'steam cleaning.'
People often ask whether carpet steam cleaning is necessary or effective. The truth is that steam cleaning is the best way to remove build-up from the carpet's fibres. It also eliminates mould and pet scents from deep within the carpet's fibres. This cleaning method removes more than 90% of bacteria and dirt from carpets. Furthermore, the heat produced by a good carpet steam cleaning helps kill mould.
We inject moisture into the carpet fibres; we don't rinse them.
Should you prefer to clean your carpet by hand with shampoo, you will need to use much more moisture. Steam cleaning reaches the deepest parts of a carpet. Dry chem cleaning, on the other hand, only reaches the surface of the carpet.
Professional Carpet Cleaning
It's a good idea to call in a professional to steam clean your carpets at least once a year. If people track in lots of dirt, it may be worth having it done at least twice per year. If you do this regularly, future cleaning will be easier as the dirt does not get an opportunity to build up too much.
You will know that your carpets are clean because the fibres will feel softer and look fresh. And, of course, any stains will be gone, which is a tell-tale sign!
Vacuum-cleaning your carpets a few times per week will help keep them clean until the following steam cleaning day. It is a good idea to vacuum right before and after steam cleaning is done.
To help you dispel any concerns expressed by sceptics: our carpet steam cleaning process is an eco-friendly way to clean carpets, and it is safe for humans.