Commercial Window Cleaning
Cleaning a company's windows can be a challenging job.
Companies usually have multiple large and high rise windows that need to be cleaned.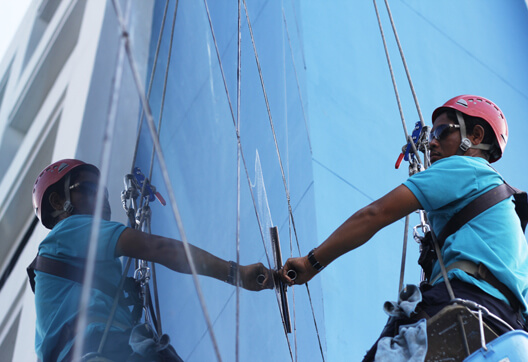 You may find it hard to reach the top of a high window, or simply tedious due to the sheer number of windows you have to clean. Reluctance to do this potentially dangerous and tiring job can lead to postponement and dirty windows – and leave a poor impression with your customers and clients.
We can help, as we are experienced and equipped to clean office windows. We can spare you the risks and frustrations with what can be a tedious job for someone whose job description does not include "window washer."
The need for professional window cleaners is constantly growing.
In recent years there has been a shift in the design of commercial buildings to more and larger windows, as people increasingly want more natural light in their workplace.
Professional cleaners have the right tools and products to do a good job, and they can reach and clean hard-to-reach nooks and crannies comfortably.
Here at EC Corporation we know not to leave streaks on the glass, as we understand you want to impress your customers when they enjoy looking through your window displays.
We bring our equipment to the window cleaning party, so you don't need to provide anything. It is our responsibility to turn up ready to do the job. The safety of our staff is a high priority for us, which is why we supply them with only the best equipment.
We know your external appearance is just as important to you as the quality of service you aspire to provide. We view our relationship with you in the same way. Give us a call as we would love to see how we can support you in putting (and keeping) your best foot forward as you attract and deal with the clients and customers who help you be successful.