Body Corporate Cleaning & Caretaking
Many businesses own or rent business spaces in stand-alone buildings, while others do business from communal office buildings. Corporate bodies are often charged with managing these shared spaces. However, they often need the expertise of a corporate cleaning company to look after and clean the premises.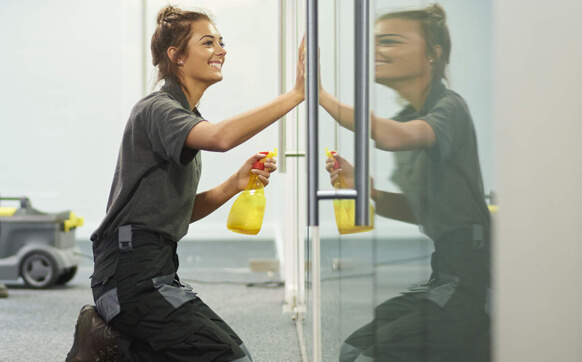 EC Corporation is a specialist in corporate cleaning and caretaking. We value open and transparent communication, which helps ensure that we fully understand the needs of bodies corporate and the owners, as well as the needs of business managers. Good communication is crucial to avoiding misunderstandings as it helps us clarify expectations and agree on the desired standards from the get-go. We have found that this also lays the foundation for a great trust relationship between our clients and us.
We provide high-quality cleaning and caretaking services to all common indoor and outdoor areas of commercial properties.
This is particularly important, as communal areas shared by multiple businesses usually have more people moving through them than individual businesses who operate from their building.
Cleaning communal areas requires a more robust, thorough approach to cleaning than usual, particularly where shared toilets and bathrooms are involved. These spaces should ideally be cleaned by a professional company, as we know that the health and safety of our clients' staff and customers are of vital importance to them.
This work includes internal and external washes and anything needed to bring the property up to scratch. We know that our clients want to keep their buildings and surroundings tidy, clean, and in perfect condition. For this reason, we care for your property as if it belongs to us.
Our friendly team is ready to work with you to help you keep your business space in immaculate condition. Contact us if you would like to have a chat about your unique needs – we'd be happy to advise you on any of your cleaning needs.